Are you thinking about buying an upright piano? Perhaps you have decided that becoming a pianist is your new goal in life and you are keen to buy an instrument that will motivate you to practice. Then again, you may already have been playing piano for years but are ready for a new piano to take your playing to the next level.
For many people, purchasing an upright piano is a good choice and comes with plenty of benefits. However, other choices are also very worthy of consideration. Let's take a look at what an upright piano is and see how it compares to other possibilities.
What Is An Upright Piano?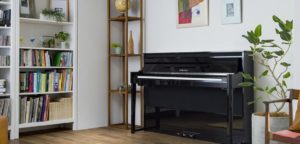 If you visit a piano showroom the majority of pianos that you see will be upright pianos. Upright pianos are great for beginners as they tend to be priced more affordably than grand pianos. The strings in an upright piano are vertically strung, putting them perpendicular to the keyboard. This makes them easier when it comes to space as the piano is more compact than a grand piano, we'll discuss this further below.
The strings being vertical does have an impact on the overall performance of the piano. Hammers rely on springs to bring them back to the at-rest poison which means that fast repetition is more limited than playing on a grand piano. If you are already an experienced pianist then imagine playing trills on an upright and then on a grand piano. The grand piano will handle these repetitive moves with ease, an upright …